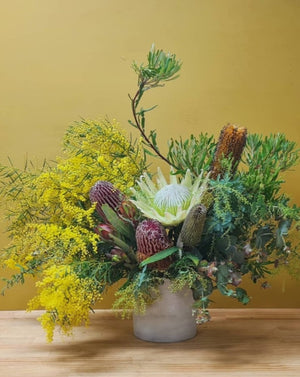 Seasonal Arrangement
Send some love in a beautiful arrangement made with a mixture of fresh, dried, wild and wonderful - created especially for you in a ceramic pot.
Flowers depend on the market and season - trust us to create an arrangement that is beautiful and unique - while taking into consideration your card message, the occasion and recipient.
Choose from the options available so we can create something in the style of your choice.
Don't forget to check out our gifts section! We have artisan handmade chocolates, baby linen, handmade soy candles, bath salts, botanical perfumes and more.