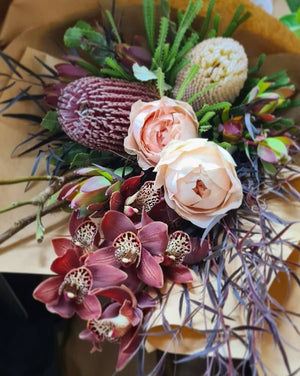 Bold & Modern
With this choice of bouquet you can expect strong groupings of flowers, perhaps richer and deeper colours like burgundy, reds and deeper pinks. Sometimes inclusions of unusual flowers and foliage to create a statement bouquet.
Your bouquet is then wrapped in our signature eco friendly wrapping. From the paper to the natural tie, to the biodegradable cellulose bag and even the sticky tape - just repurpose your ribbon! We are not perfect, but are always looking for ideas and solutions to reduce waste and minimize single use plastics.
Add a vase
You can choose to add a vase with your flowers for an extra special gift, or if you think your recipient may not have a vase. Our standard vase is a glass cylinder. We also have a range of beautiful premium vases available - you can find these under the "gifts" and "vases" section of our website.
When creating your bouquet, we take into consideration the occasion and recipient to tailor your order. If you are after something more specific, please add in notes at checkout or call the shop on 0411862552.