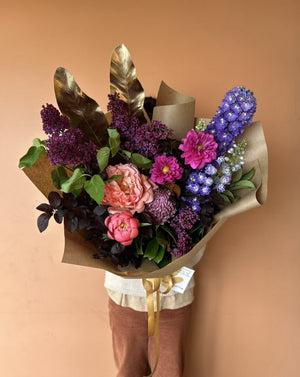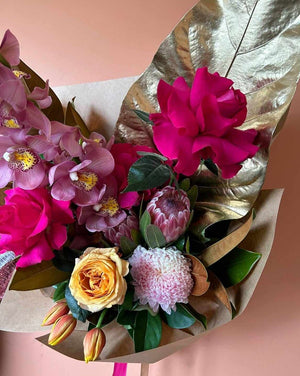 Jewel Tones
JEWEL TONES
Think deep, rich colours of ruby red, emerald green, amethyst, citrine yellow -  arranged into a beautiful modern bouquet of strong, saturated colour and golden accents.
We select what is best of the season, so our flowers and colours are often changing. Images are an accurate representation of the style and colours you can expect to receive. Our bouquet's are always thoughtfully and carefully constructed - trust us to create something that is beautiful and unique.
If you know the recipient's favourite flowers or colours, be sure to mention it in notes at checkout - while we can't always guarantee your request, we will get as close as possible!
Your bouquet is then wrapped in our signature eco friendly wrapping. From the paper to the natural tie, to the biodegradable cellulose bag and even the sticky tape - just repurpose your ribbon! We are not perfect, but are always looking for ideas and solutions to reduce waste and minimize single use plastics.
Add a vase
You can choose to add a vase with your flowers for an extra special gift, or if you think your recipient may not have a vase. Our standard vase is a glass cylinder. We also have a range of beautiful premium vases available - you can find these under the "gifts" and "vases" section of our website.
When creating your bouquet, we take into consideration the occasion and recipient to tailor your order. If you are after something more specific, please add in notes at checkout or call the shop on 0411862552.