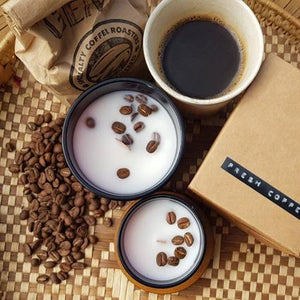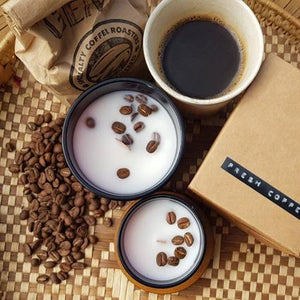 Handmade Coconut & Soy Wax Candle
**Small Candle Restock coming soon!***
Handmade Coconut & Soy Wax Candles, made locally in small batches. The coconut and soy wax blend has a beautiful creamy soy finish and lasting scent throw when both hot and cold. Wood wicks for that beautiful crackle!

A perfect gift for any occasion, or just to treat yourself.
Large candles also come gift boxed!
Small - approx. 25hr burn time
Large - approx. 48 hour burn time
Our current scent range include:
(please note not all may be available at one time)

Australian Florals and Honey
Turkish Rose 
Fresh Coffee 
Lavender & Ylang Ylang 
Lime, Basil & Mandarin
Chai Tea 
Citrus, Sage & Chamomile
Peony, Peach Nectar and Lychee
English Pear & Freesia