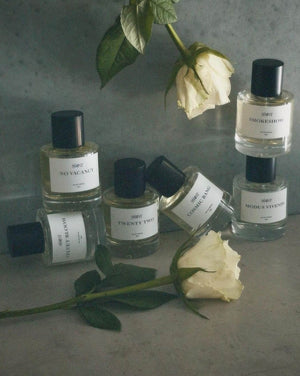 SŚAINT Perfume - New Release
SSaint Perfume have released two new beautiful scents- Velvet Bloom and No Vacancy
Powerfully nostalgic and wildly addictive.
SŚAINT is a conscious, gender-neutral line of signature scents born from a collective and intrinsic appreciation towards the ethereal qualities and emotive capabilities of fragrance and the natural world.

Velvet Bloom
Dappled sunlight on skin, the soft caress of a balmy breeze and supple ground on foot. Nostalgia of bird sound and slow afternoons spent by gentle shores; utterly carefree. A succulent peach scent, notes of iris reminiscent of suede and the wistful warmth of old cedarwood muster sweet feelings of fondness. The subtle bite of saffron juxtaposes a fresh hint of musk, reminiscent of blissful pockets of time gone by.
 Unisex fragrance with the below notes:
Peach, Green Notes and Blackcurrant
Turkish Rose, May Rose and Iris
Italian Iris, Virginia Cedar, Pepper, Orris & White Musk
No Vacancy
Tenacious, with a nomadic spirit. Vibrant, self-assured, and unafraid. Like the sting of rubber on tar, a lust for adventure is ignited, the exotic aroma bursts; notes of amber, woody undertones an ode to home, however far away. Musk and vanilla reminiscent of the open road, endless possibilities as day drifts into the crisp abyss of night.
Unisex fragrance with the below notes:
Explosions of Spices, Intense Labdanum, Incense & Oil of Cannabis
Patchouli Leaves & Woody Notes
Amber, Guaiacwood, Vanilla Pods & White Musk