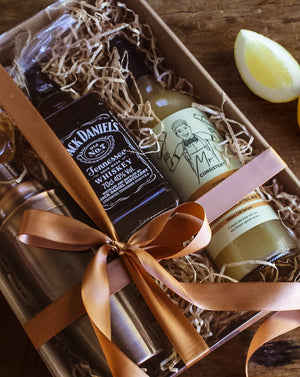 Whiskey Sour Cocktail Kit
Make your own delicious cocktails at home!
The kit includes everything you need to make your own Whiskey Sour at home.
1 x Mr Consistent Cocktail Mix - Sours
1 x Jack Daniels 700ml (we can also sub this for the reciepient's favourite - just let us know)
1 x Copper Cocktail Shaker
1 x Bag of Dried Orange Slices for garnishing
All packaged up and presented beautifully in a gift hamper.
Mr Consistent Cocktail Mix
Sweet & sour - the perfect balance in any winning recipe. Sours is impeccably balanced, to ensure that the mixer you add with it enhances the flavours inside this mighty bottle.
Perhaps you enjoy the sweet Amaretto Sour, or maybe a Gin or a Whisky Sour - whichever route you head in, our Sours Mixer will be your best friend. This guy really like a good shake, so put on your bartender kit, pretend you're world class, and shake your booty. You'll end up with the exact same frothy head as you would in a bar, without straining a gazillion eggs (this guy is egg free, and is vegan)!
Mr. Consistent's cocktails only feature the freshest ingredients and are handmade with love so that you can drink consistently amazing cocktails wherever you are.